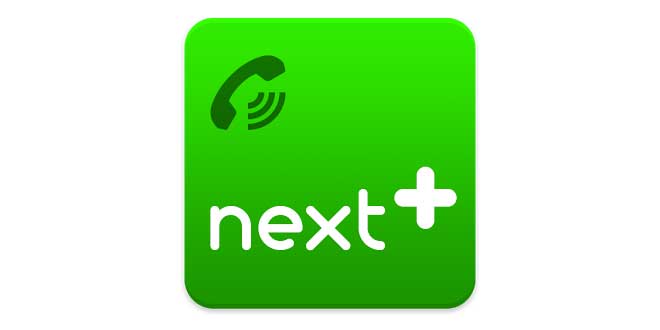 Nextplus provides complete phone service packed into an app that's free to download and fun to use!Calling anyone is now FREE just like text! Sure you can pay for a phone plan but why not use Nextplus – the phone company that makes calling and texting FREE?
YOUR NEXT PHONE COMPANY IS AN APP
– Receive a free phone number
– Free unlimited incoming and outgoing calls to any phone number
– Send and receive unlimited free text messages with anyone
– NO contracts, NO commitments, NO phone purchase, and NO hidden fees
– Compatible with all of your Android devices (phones and tablets)
– No cellular service required
– Fun and social features
HOW IT WORKS
Unlike other app-2-app messengers we let you call and text ANY phone number.
Your friend's phone company charges us small fees to deliver texts and calls on their networks. Rather than force you to pay, we let you view a few banner ads or watch a quick video. If you choose, you can pay a buck or two and make those ads disappear. The choice is yours. And remember if your friend joins Nextplus we remove video ads entirely.
Think of Nextplus as the FREE ad-supported phone company that works just like popular free video and music services!
PACKED WITH ADDITIONAL FUN AND SOCIAL FEATURES:
– Meet new people & make new friends with Lucky Call – like voice roulette!
– Text messages are delivered instantly via push notifications
– Send emojis, stickers, animated GIFs, and voice notes
– Works across multiple devices and we keep your conversations in sync
– Personalize your avatar with any photo or animated GIF
– Group blast messaging support
– See which of your friends are online 24/7
TEXTPLUS USERS:
Nextplus is the new and improved version of textPlus! We've built a whole new experience from the ground up to be faster, better and to include a rich set of awesome new features. Sign in with your textPlus account for instant access now!
FOLLOW NEXTPLUS
www.facebook.com/Nextplusme
www.twitter.com/Nextplus
Questions? Email support@Nextplus.me
OTHER IMPORTANT INFO
Emergency calls are not supported
Terms of Use: http://nextplus.me/terms/
Privacy Policy: http://nextplus.me/privacy/
AD REMOVAL PLANS:
Nextplus offers low cost subscription plans that remove advertising.
If you choose to subscribe to a plan, you will be charged a price according to the plan selected in your country. The price will be shown in the app before you complete the payment. Subscription renewal is based on the plan selected. See Terms of Use and Privacy Policy for more details.
Remove Banner Ads for 1 month / Remove Banner Ads for 1 year / Unlimited Ad-Free calls to Mexico (landlines) for 1 month / Unlimited Ad-Free Calls to Mexico (mobile) for 1 month / Unlimited Ad-Free calls to US & Canada for 1 year